For the third day of Indian States, under BM#56, Buffet on Table, I am going to give you a feast from the Udupi Cuisine. Of all the cuisines of Karnataka, Udupi Cuisine is very famous and renowned for its vegetarian feast.
As you all might know already, I am very fond of Indian Thalis and have eagerly lapped on reading different Indian Thalis. Sometime back NDTV Food featured Top 10 Udupi dishes and ever since then I have been wanting to make a Udupi Thali myself.
Another reason was, Padma got me Jackfruit Appalam/Pappad from her visit to Udupi. As she was traveling and visiting Krishna Temple, she was sharing the pictures and I was so taken in by them. That also made me decide that I ought to cook Udupi Thali. Ever hear of papad leading to a thali? Well if you taste the Jackfruit appalam, you will agree on it.
One fine day, I finally sat down to pick up my Udupi menu. I knew I will not be able to prepare the elaborate and complete Thali. However, I wanted to make sure that I picked up at least one of the items listed in their elaborate menu. I saw the list on wiki and went ahead of deciding.
Even before I knew about the Udupi Menu, I knew their Sambar was famous and wanted to make it. However, from the Udupi Recipes site, I couldn't identify which was sambar. After hours of reading, I finally understood, it's called Koddelu! I was reading about the Gulla Bolu Huli. I was having problems understanding the different regional words used. I am hoping I ended up with an authentic sambar, no matter how much I understood!
Another surprise element was reading that coconut being predominately used in Udupi Cuisine as well. So when a Sambar is prepared without coconut, it is called "Bol Koddel". As the natives think without coconut, the sambar is plain.
The Bol Koddel can be prepared in two ways. One using the Udupi Sambar powder , another without the sambar powder. Since I was anyway going to the full measurement, I went ahead to prepare Udupi Sambar podi as well.
The vegetables that you can use in the Sambar can be Yellow Pumpkin, Eggplant, Beans, Carrot, Raw Banana, Ash gourd, Yellow cucumber (mangalore southe), Ladies finger, etc. However, the most preferred vegetable is the Brijal or Eggplant (Gulla in Tulu). I read that even cabbage and red amaranth leaves can be used.
Eggplant Bolu Huli is also a specialty at the Shri Krishna temple (Commonly known as Krishna mutt) of Udupi. Devotees from all over the country, throng the temple for this 'prasadam', served during lunch. I read about an interesting story on this variety of Eggplant that is locally grown. I was so glad I landed here as I enjoyed the visual treat this blogger has on her blog!
We also get a green variety of brinjal, however, I couldn't procure it on the day I was cooking. So I decided on Raw Plantain.
As I have said in the beginning, my representative of any of the regional cuisines is not complete by any means. I have picked up dishes that I could make and knew my family will like. The choices and dishes that will be part of any thali are beyond my aspiration to cook and enjoy in one sitting!
Raw Banana Sambar
How to make the Raw Banana Sambar
Wash and Pressure cook Toor dal till soft. I cooked for 3 whistles, and added the banana pieces and cooked for another whistle.
Udupi Sambar podi, and enough water to get the required consistency.
Once the pressure falls, add tamarind extract, chopped green chilies, hing, jaggery, salt,and enough water to get the required consistency.
Finally, add the coriander leaves and bring to boil.
Meanwhile, in a smaller tempering pan, heat oil, add the tempering ingredients and when done, pour on the simmering sambar.
Remove and serve with Steamed Rice.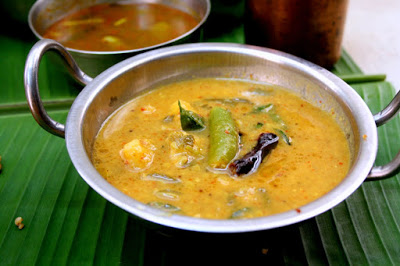 This is part of the Udupi Thali
होटल जैसा टेस्टी सांभर घर पर बनाने का आसान तरीका | Sambar recipe for Dosa, Idli | Homemade Sambar
Hotel jaisa tasty sambar ab ghar par banaye is asaan aur easy tarike ke saath. Ise banane bahut hi asaan hain aur yeah bahut hi tasty banti hain ghar pe. Hotel jaana bhool jaoge jab banaoge aisa tasty sambhar ghar par. Ise dosa, idly ke saath enjoy kar sakte hain, aur bachon se lekar badon tak sab ko pasand aata hain. Agar video acha lage to ise jaroor like aur share karein apne friends ke saath. Mere channel ko subscribe nahin kiya to subscribe karein taaki aise aur bhi recipes aapke saath share kar sakoon.
HotelStyleSambar EasySambarRecipe
Subscribe here ➔ http://goo.gl/L7Ngdo
Kanak's Kitchen English Channel ➔ http://goo.gl/z8RCxr
INGREDIENTS:
1 cup/150 gms tuar dal
salt
1/4 tsp turmeric powder
2 tbsp oil
1 tsp rai/mustard seeds
1/2 tsp methi seeds
23 dry red chillies
12 green chillies
1012 curry leaves
1/2 tsp heeng
1 big onion sliced
2 tomatoes chopped
1 carrot
some pumpkin pieces
1012 brinjal pieces
810 pieces singi/shinga
1/2 tsp red chilly powder
2 tsp sambhar powder
45 tbsp tamarind pulp
1/2 onion into cubes
piece of gud/jaggery
Fresh coriander
▬▬▬▬▬▬▬ Social Media Links ▬▬▬▬▬▬▬
Facebook ➔ https://www.facebook.com/kanakskitchen/
Instagram ➔ http://instagram.com/kanakskitchen/
Google+ ➔ https://plus.google.com/+KanaksKitchen
Twitter ➔ https://twitter.com/kanakskitchen
Subscribe here ➔ http://goo.gl/L7Ngdo
Kanak's Kitchen English Channel ➔ http://goo.gl/z8RCxr